For over 30 years, Mr. Rooter has been working with entrepreneurs and existing plumbing/drain cleaning professionals to build strong and successful plumbing and drain cleaning businesses. Our many years of experience and cutting edge systems provide each plumbing franchise with the direction that helps them achieve the goals they have for their business.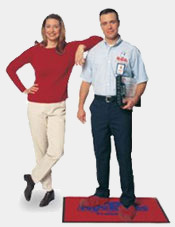 The open exchange of ideas is a strong advantage and unique to a franchise system offering "exclusivity." Having an exclusive area is what allows the comfortable exchange of ideas among Mr. Rooter's franchisees. This benefit is in addition to Mr. Rooter's initial training program and on-going support. A big advantage of being a Mr. Rooter franchise is the opportunity to create synergistic conversations and relationships with other successful Mr. Rooter franchises. Simply by attending regional meeting and the national convention, you will meet other franchisees in your region and across the country.

You'll find many Mr. Rooter franchises have similar experiences to yours and are happy to share their knowledge with you. Sharing in their experiences, along with voicing your own ideas, allows you to gain important information that can help you accelerate the implementation of Mr. Rooter's business systems in your own operation. It is rare to find an environment where the exchange of ideas occurs so openly between those within the same industry.
Also, when you own a Mr. Rooter franchise, your exclusivity grants you the rights to use the Mr. Rooter name and concept in your territory. This means your competition will not have the benefit of the proven techniques and methods you will implement in your business…only your other Mr. Rooter team members will possess and openly converse about such proprietary knowledge.
Franchise System
Many plumbers are most comfortable in dealing with the technical end of the business and not so comfortable when immersed in the business side of things. That's why subjects like finance, budgeting, salesmanship, marketing, customer retention, break-even analysis and a number of other everyday business functions are likely to be brushed aside. It's simply a matter of focusing on what one likes to do versus what one must do to keep a business successful.
Why is having a Business System so Important?
A Mr. Rooter franchise helps you "tackle" the business side of your business. This is because Mr. Rooter has taken all of the pieces needed to run a successful plumbing business and created systems that are easy to follow and easy to implement. As a Mr. Rooter franchise, you too will learn these systems. You will have a franchise systems manager responsible for your training and business development. This person will help you learn the must-have ingredients for your business's success. Join the more than 300 Mr. Rooter franchisees around the world who have learned these systems and are now reaping the benefits!
Training & Support
When becoming a Mr. Rooter franchise, you realize significant advantages over other independent plumbers because you can count on training and support from an experienced team of industry professionals. It starts with attendance at Mr. Rooter's initial franchise training and extends throughout your franchise relationship with Mr. Rooter.
The Power of Synergy
Synergy - "two or more entities coming together to achieve an effect greater than they are individually capable of achieving."
Comprehensive Initial Training
Upon becoming a Mr. Rooter franchise, you will attend a proprietary training course where Mr. Rooter's knowledgeable team assists you in putting financial, marketing, management, and specialized customer service strategies to work for you. Part of your initial training is accomplished during one-week of classroom training at the world headquarters.
Immediately, you will realize what it takes to manage your business better, realize profits, and allow yourself more free time.
On-Going Corporate Support
As you are implementing Mr. Rooter's proven systems, our team continues to support you every step of the way. You will have on-going support from Mr. Rooter's world headquarters staff who have years of experience and superior understanding of the appliance service industry. You will be assigned a regional director who is only a phone call a way and circulates through your area frequently to advise you on your franchise's growth and progress.
Further, Mr. Rooter frequently offers on-location site visits and has regional and national meetings to encourage and propel your understanding and use of the Mr. Rooter system.
To learn more about the Mr. Rooter maintenance franchise opportunity, simply complete the form below.