Entrepreneur Magazine calls Home Inspection "one of the best opportunities…"
With an annual potential of over 6 million transactions (translated into an estimated $1.8 billion in fees) the Home Inspection Business is booming.
And now, you can profit from that boom by teaming up with A-Pro - the most respected name in the home inspection industry.
Franchise Investment & Benefits
A-Pro's initial investment is just $25,900 -significantly lower than many of our competitors, although we offer a whole lot more.
The total, turnkey A-Pro franchise package includes: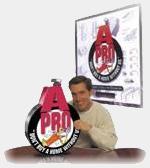 Your own exclusive territory of approximately 200,000 potential customers - that's as big or bigger than most others.

A comprehensive training and certification program at the ITI campus in

San Antonio

- a $3000 value on its own.

Your own, state-of-the-art tablet computer with cursor pad and hands-free voice command software - pre-loaded with A-Pro's home inspection management system AND the complete proprietary reporting software.

Your own custom-designed web page to help you get top exposure in your market.

An array of home inspection tools and supplies, including gas detection equipment, laser thermometer, foundation level survey equipment , A-Pro personalized report binding system with 20 report covers and more.

Uniforms, vehicle magnets, patches, business cards and other materials to establish your business.

Membership in ISHI for the term of the agreement (a $1,400.00 value), one of the most respected trade organization in the home inspection industry.

A complete arsenal of marketing materials, including a strategic print, e-mail and telemarketing program targeted to your local realtors.

Complete marketing support from our copywriters, designers and strategists.

A full set of home maintenance guides, reference manuals, business forms and all software licenses.

A subsidized business insurance plan up to $500.00 for your first year.

90-day or 120-day free warranty rights on all inspections - probably the key ingredient that sets A-Pro apart from any other home inspection company in the country.

Access to affordable group health insurance, health savings accounts, disability & life insurance plans.

Access to prescription drug coverage, eye care coverage and even pre-paid legal services through our extensive group network.

Toll-free phone and online support anytime you need it.
All told, our package amounts to a TOTAL, TURNKEY system that sets you up to run your own successful home inspection business virtually from day one. And there are NO hidden franchise fees and NO surprises.
Vast Customer Base
As an A-Pro Inspector, you'll be getting about 95% of your business directly from your local realtors, who - once they get to know you - will refer clients directly to you on an ongoing basis. In fact, once you've earned their trust, chances are you'll be the only home inspector they'll ever use.
The other 5% of your business will come from responses to the advertising and marketing program we provide to you, and of course, word of mouth once you begin to build your customer base.
One of the great things about the home inspection business is that it truly builds upon itself with every inspection you perform. You'll find that by simply leaving your business cards behind at customers' homes, they'll refer you to their friends, family and co-workers like clockwork, much in the same way they refer quality plumbers, painters and electricians. And when you consider that 20% of Americans move into a new home each year, you can imagine the number of new client opportunities you'll have every day. Your customer base is always fresh, and it's virtually unlimited.
Unlimited Potential
The home inspection business is among the most secure corners of the franchise industry. Real estate interest rates are stable, the housing market is strong, and people are relying more and more on highly-trained inspectors to help them make their homebuying decisions. The fact is that virtually every home bought and sold these days has a professional inspection performed on it. That makes for a virtually limitless customer base.
Taking the Next Step
Since 1994, A-Pro has taken great pride in becoming the most innovative and respected home inspection company in the nation - bar none. We exercise exceptional care when interviewing our franchise candidates and awarding our exclusive geographic territories. After all, these are partnerships designed to last a lifetime.
Once we do award a franchise territory, we follow through on a truly dedicated partnership basis - providing our business owners with the experience, support and professional insight necessary to become successful.



To learn more about the A-Pro Home Inspection franchise opportunity, simply complete the form below.