Canada's #1 Salon Franchise. Celebrating 25 years on the cutting edge of the Beauty Business
The "First Choice" For Savvy Investors
Capitalize on one of the fastest-growing industries in the world---the $150 billion hair care industry. First Choice Haircutters is the leading hair care brand in Canada with over 400 salons.
Our parent company, Regis Corporation, is the largest hair salon company in the world with over 11,000 salons in its portfolio. So our franchisees benefit from our vast experience, resources and education. Few other franchises can offer you as much.
Built-in brand awareness and customer loyalty
When you operate a First Choice Haircutters, you have automatically invested in an established brand with a built-in customer base. Our brand recognition in the Canadian marketplace is beyond compare. And our customers are loyal because of our no-appointment convenience, clean and comfortable environments, friendly, creative stylists and affordable prices.
Unparalleled franchise support and training
Backed by Regis Corporation, our franchise operators benefit from some of the strongest training and support programs in the industry. The initial training program focuses on everything from operations and staffing to advertising and customer service. In addition, our field support team spends up to 10 days on-site for the grand opening.
Unsurpassed buying power
Another benefit of being a part of Regis Corporation is the product buying power our franchisees receive. With over 11,000 salons operating worldwide, we receive pricing that no other salon franchise can attain, allowing for greater opportunity to increase margins and impact unit economics.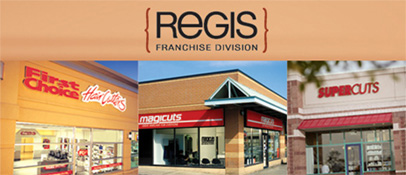 Join our growing franchise family
First Choice Haircutters is seeking franchise prospects with passion, business experience and solid financial qualifications. Regis is also expanding the Magicuts and Supercuts hair care franchises in the Canadian marketplace. Magicuts has over 200 locations in Canada with a focus on style-conscious adults. Supercuts has over 2,000 locations in North America serving trend-conscious men.
Financial requirements
To qualify, you must have liquid assets of $100,000 (CDN$) and net worth of $300,000 (CDN$).
To learn more about the First Choice Hair Salon franchise opportunity, simply complete the form below.