Quality Technology Education for Children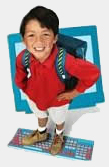 COMPUTERTOTS offers instruction for children ages three to five, conducted at childcare centers, preschools and in community centers. Its core purpose is to help build academic readiness skills in language arts, math, science, art and music, plus introduce children to problem-solving and computer operations through educator designed lesson plans and hands-on activities.

COMPUTER EXPLORERS provides trained technology resource teachers who plan and guide the lessons for students ages 6 through adult. CTCE's teachers integrate dynamic projects into the academic core curriculum areas of social studies, science, language arts and mathematics. Students reinforce their academic knowledge at the same time they learn and use technology productivity tools.

SPECIAL PROGRAMS for CTCE students include after-school programs and summer camps with techno-centered peripherals - robots and robotics, digital cameras, scanners, movies, electronic microscopes.

Is CT/CE Right for You?

Franchisees have exceptional people skills, are dedicated to improving education and want to make a difference in their communities. CTCE franchisees grow their businesses by developing strong relationships with preschool directors, school principals and parents.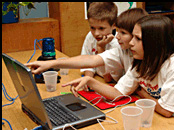 Key Advantages
Although a full-time job, this home-based business offers a unique and flexible schedule for the owner.
New franchisees receive a two-week comprehensive instruction course at our international training facility. Areas of focus include understanding the fundamental concepts in today's education industry, products and services based on those education concepts, consultative marketing and sales, and business implementation - operational planning and financial analysis.

Investment

Own, develop and grow your own business by hiring, training and managing those who teach classes for you.
Territory: Exclusive territory based on numbers of childcare and preschools, private and public schools, and community centers.
*Financing is available to approved candidates.
To learn more about the COMPUTERTOTS children's franchise opportunity simply complete the form below.